Domestic Water, Heating/Cooling Riser Replacement Including Engineer Drawings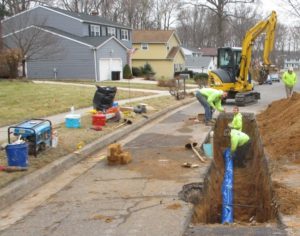 When a person moves into a new house, where all the communications are installed, he does not think about possible problems with the system for a long time. This is not the case with the old property. It is necessary to make the replacement of domestic water riser and other communications. For those who are engaged in building a house on their own, we offer the services of a specialist to create drawings of the pipeline. Turning to us, each client receives:
Professional help.
Reasonable prices.
Guarantee of service.
The solution to any, even the most complicated task.
Fast arrival of the master.
Exact calculation of the cost of work.
If you need to repair plumbing riser, conduct sewerage or drinking water pipeline, contact our company. Applications are accepted 24 hours a day on the site.
Why is there a leak in the water riser?
During use, the pipe is thinning, forming a pinhole, a small hole through which water begins to seep. The most common people found with such a problem are risers plumbing. If the hole in the pipe is big, the leak can be noticed immediately, a small leak leads to expensive damage, because it is not immediately visible, and in the process of seepage water damages the floor covering. Our plumbing engineer will be able to diagnose the problem with the help of modern tools that will quickly identify and fix it. Usually, the damaged pipe is replaced. It may be necessary to open up the wall for repairs if the utilities are hidden.
We got drain clogged in the kitchen sink. I found POM Group on google and call them. They said plumber will come within an hour. When he arrived and checked our kitchen sink drain he said that it all rusted out and needs to be replaced. After plumber cleared drain he replaced all necessary parts of drain. Everything was done professional and clean.
I would like to say thank you to POM Group for responding so quick to our problem.

We are pleased to place the first review for the POM Group! We were doing a big project in our house involving basement waterproofing, installation of sump pump and also installation of back water valve on our main line as our neighbors were suffered from sewer back up several years ago and wanted to make sure that our house is protected from all of these disasters. We were asking multiple companies to come to our house and investigate what would be the best solutions for our particular case. When POM Group representative arrived the filling that finally right person is here appeared from very first moment

POM was prompt, courteous and thorough. We would recommend to anyone. We had a backwater valve installed. I called Sunday, got a quote Monday, has the work done the following Monday (including issuing of building permit).

What is included in plumbing riser services from POM Plumbing?
Our company provides a wide range of services:
Inspecting utilities for leaks.
Obtaining a permit for plumbing installation.
Replacing damaged sections.
Complete replacement of the entire system.
Checking the performance of the pipeline with an inspector and engineer.
Especially for construction, our specialists develop plumbing drawings and estimates. If the repair was damaged on our part, it is fully compensated. A warranty is given for all work performed so that the water riser served for a long time, we recommend concluding a service contract. This will allow detecting the problem in time and replacing the problem areas. To leave a request for a master call, use the special form on the site. The cost of the work is calculated after inspection of the object, but our specialist can roughly orient the price. Do not wait until you flood the neighbors from above! It is cheaper to prevent a breakdown than to pay for its consequences.