Drain Camera Inspection in Toronto
Camera Inspection and Repairing Broken Pipes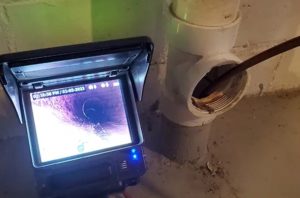 The water supply of the house plays a significant role in the life of modern man. When installing plumbing, its location is carefully planned, making a distribution of pipes and nodes to drain.
The system's longevity depends on the scheme's correctness and the quality of the material. Over time, there can be various breakdowns in the form of reduced head, leaks, and clogged pipes. Of course, you can try to solve the problem yourself, spending effort and nerves.
But, we recommend contacting us, the company POM Plumbing, which employs professionals. In the arsenal of plumbers there is a camera locating of broken pipes which gives an opportunity to find the leak in a hidden plumbing system and save money after taking apart the covering under which the pipes are laid.
Why choose us for drain camera inspection?
How is drainage diagnosed with a camera?
To keep your water system running smoothly, you should have it serviced on time by detecting faults. To do this, you should sign a contract with a company, and a master will carry out the diagnostics at a certain time. To cope with the task camera inspection of drains will help him find even a barely noticeable leak.
Clean the drain of clogs. If the problem with the water supply is a clump of hair and food stuck in the drain, it will be solved quickly. Otherwise, a plumber uses the camera to determine the problem and may need to replace the pipe.
The tiny drain inspection camera is designed to inspect all pipe diameters. When a problem is detected, it makes a sound, telling the technician about the leak. If the hole is underground, the plumber determines the depth of the pipes and takes on the job having previously stipulated all the nuances with the client.
Why drain inspection camera is useful?
Drain camera inspection of pipes is a process that involves the use of specialized equipment to inspect the interior of pipes for damage or blockages. This process is commonly used in the maintenance and repair of plumbing and sewer systems. The equipment used in drain camera inspection typically consists of a small, waterproof camera attached to a flexible cable that can be inserted into the pipe. The camera transmits real-time images of the inside of the pipe to a monitor, allowing technicians to identify any damage or blockages.
Drain camera inspection is an effective method for detecting a wide range of issues in pipes, including cracks, corrosion, and root intrusion. It also enables technicians to determine the location and severity of any problems, making repairs more efficient and cost-effective. Additionally, drain camera inspection is a non-invasive method of inspection, meaning that it causes minimal disruption to the surrounding environment. This makes it an ideal solution for both residential and commercial plumbing and sewer systems.
Drain camera inspection of pipes is an essential tool for identifying and resolving issues in plumbing and sewer systems. Regular inspection and maintenance of these systems can prevent costly and time-consuming repairs down the line. Drain camera inspection can also be used to evaluate the condition of pipes before purchasing a new property or conducting renovations, ensuring that potential issues are identified and addressed before they become more significant problems. Overall, drain camera inspection is a reliable and efficient method for identifying and resolving issues in pipes and is an important aspect of maintaining the health and functionality of plumbing and sewer systems.
FAQ about Сamera Drains Inspection
We got drain clogged in the kitchen sink. I found POM Group on google and call them. They said plumber will come within an hour. When he arrived and checked our kitchen sink drain he said that it all rusted out and needs to be replaced. After plumber cleared drain he replaced all necessary parts of drain. Everything was done professional and clean.
I would like to say thank you to POM Group for responding so quick to our problem.

We are pleased to place the first review for the POM Group! We were doing a big project in our house involving basement waterproofing, installation of sump pump and also installation of back water valve on our main line as our neighbors were suffered from sewer back up several years ago and wanted to make sure that our house is protected from all of these disasters. We were asking multiple companies to come to our house and investigate what would be the best solutions for our particular case. When POM Group representative arrived the filling that finally right person is here appeared from very first moment

POM was prompt, courteous and thorough. We would recommend to anyone. We had a backwater valve installed. I called Sunday, got a quote Monday, has the work done the following Monday (including issuing of building permit).

How do I order a drainage camera inspection?
It is enough to leave an application on the company's website to contact us. After its processing, the master calls the client and arranges an appointment. He always has a camera for drain inspection. This tool allows you to quickly identify the problem and eliminate it. Therefore, the plumber's team works quickly and qualitatively, providing customers with guarantees for the services provided. You can specify the cost of the work from the managers. But the remaining price is determined by a specialist after the inspection of the object. If you have a problem with the water supply, do not rush to solve it yourself, you should ask for help from professionals. We work with legal entities and individuals and are always ready for long-term cooperation.