Kitec Piping Replacement Services Toronto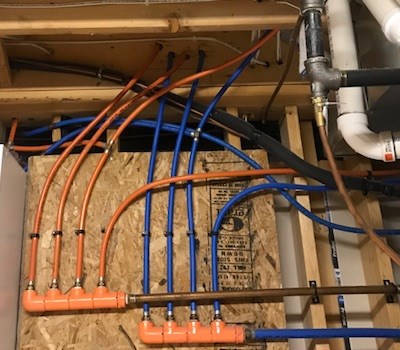 Kitec multilayer pipes were actively used about 20 years ago. But due to their wear and tear, problems in the water supply system are observed today. Often leaking kitec piping leads to road flooding, houses, and even an overflow. They were used in low-rise and high-rise buildings mostly. A frequent cause of the flooding of neighbors from downstairs is a leaky riser. So a complete kitec plumbing replacement is relevant. Insurance companies, paying compensation, do not cover the cost of expensive repairs. It leads to the fact that the owner of the apartment where the leak occurred has to pay extra for the damage caused. It is cheaper to replace the piping system.
Our advantages of performing work with kitec plumbing
Our company provides a wide range of services for the elimination of kitec plumbing issues, from drawings to the installation of pipes. We work with almost all construction companies and provide services to individuals. You can choose any type of pipe, focusing on your budget. Our specialists will carry out pipe riser repair accurately and quickly, providing a guarantee for the services done. Turning to us, you get:
Execution of work in strictly defined terms.
Quick arrival of the master.
Call an engineer and inspector to check the performance of the pipeline.
Guarantees on the work done.
Of course, there can be some changes, such as creating a new opening, old niches removal, and installation and dismantling of communications.
How to order the service of replacement of pipelines kitec in the company POM Plumbing?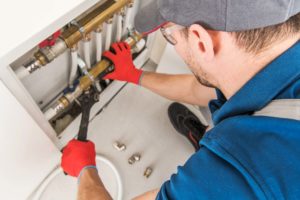 You can make a call for a kitec plumbing appointment by phone or by using a simple form on the company's website. After processing the application, our master will contact you to clarify the day and time of arrival. If material damage occurs during the work, we will compensate for it. Professional replacement of old pipes is a reality. You will not have to clean up after our specialists. The work is done neatly. We leave a functioning bathroom for the duration of the work, which prevents inconvenience. The average time for pipe replacement work takes up to five days and depends on the complexity of the work to be done.
We got drain clogged in the kitchen sink. I found POM Group on google and call them. They said plumber will come within an hour. When he arrived and checked our kitchen sink drain he said that it all rusted out and needs to be replaced. After plumber cleared drain he replaced all necessary parts of drain. Everything was done professional and clean.
I would like to say thank you to POM Group for responding so quick to our problem.

We are pleased to place the first review for the POM Group! We were doing a big project in our house involving basement waterproofing, installation of sump pump and also installation of back water valve on our main line as our neighbors were suffered from sewer back up several years ago and wanted to make sure that our house is protected from all of these disasters. We were asking multiple companies to come to our house and investigate what would be the best solutions for our particular case. When POM Group representative arrived the filling that finally right person is here appeared from very first moment

POM was prompt, courteous and thorough. We would recommend to anyone. We had a backwater valve installed. I called Sunday, got a quote Monday, has the work done the following Monday (including issuing of building permit).