Etobicoke Plumbing Service by POM Group
Affordable Plumbing Services in Etobicoke
At our company POM Plumbing Group, we understand how important it is to find reliable and affordable plumbing services in Etobicoke. Plumbing issues can be a hassle, and it is important to have a team you can trust to get the job done right. That's why we are here to help.
Our team of expert plumbers is dedicated to providing top-notch services to our customers in the Etobicoke area. Whether you need a simple repair or a major installation, we have the knowledge and expertise to get the job done efficiently and effectively.
Why Choose Us as Plumbing Contractors in Etobicoke?
Expert Plumbing Repairs in Etobicoke
We offer a wide range of plumbing services, including but not limited to:
Drain cleaning and unclogging
Faucet and fixture repair and installation
Water heater repair and replacement
Sewer line repair and replacement
Gas line installation and repair
Pipe repair and replacement
Bathroom and kitchen remodeling
In addition to our repair services, we also offer preventative maintenance options to help keep your plumbing system in top shape. Regular maintenance can help prevent costly plumbing repairs down the line, and our team is happy to provide tips and advice on how to keep your plumbing system functioning properly.
We pride ourselves on our attention to detail, ensuring that every plumbing repair is done correctly the first time. We use only the best tools and techniques to ensure your satisfaction, and our team is dedicated to providing top-notch customer service.
If you are in need of plumbing repairs in Etobicoke, look no further than our team at POM Plumbing Group. With our commitment to excellence and dedication to customer satisfaction, you can trust us to handle any plumbing issue you may have. Contact us today to schedule your appointment.
FAQ about Plumbing in Etobicoke
Testimonials about POM Plumbing Group
As a new homeowner, dealing with plumbing problems was overwhelming. But when I called this plumbing company, they made it so easy! The plumber arrived on time, assessed the issues, and fixed a leaking pipe swiftly. They even gave me some useful tips for future maintenance. Fantastic service and genuinely caring plumbers in Etobicoke. Highly recommend!

I was skeptical about calling a plumber, but these guys changed my mind. Their service was exceptional, and they didn't try to upsell me on unnecessary repairs. I'm glad I chose their plumbing services!!! 👏

"Very satisfied with their plumbing services in Etobicoke. The plumber was efficient and courteous. I'd be happy to hire them again whenever I face plumbing issues."

I can't thank these plumbers enough for their incredible service! I had a persistent leak that nobody else could fix, but these guys nailed it! They arrived quickly, found the source of the problem, and patched it up perfectly. It's been weeks and no leaks! Their dedication to quality plumbing in Etobicoke is commendable.

"I had a great experience with their plumbing company. The plumber was friendly and knew what they were doing. I'll be recommending them to all my friends!"

When my kitchen sink got clogged, I reached out to these plumbers, and they saved the day! The plumber worked diligently to unclog the mess, and he also checked the entire plumbing system to ensure everything was running smoothly. Professional and reliable services in Etobicoke, no doubt!

I had a great experience with these plumbers. They were not only quick to respond but also incredibly polite and respectful. The plumber they sent was skilled and fixed the dripping faucet in a jiffy. Definitely recommended!

Basement waterproofing is a crucial investment in maintaining the structural integrity of your home. Ensuring its longevity is equally important. Let's delve into the factors
Read More »
Chemical drain cleaners have become a popular choice for homeowners dealing with clogged drains. These powerful agents offer a quick and seemingly easy solution to
Read More »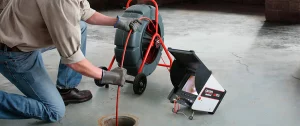 Sewer line issues are often out of sight, out of mind until they become major problems. Homeowners and property managers are increasingly turning to innovative
Read More »