Kitchen Stack and Drainage Cleaning in Toronto
Dirty water with grease and food debris while washing dishes ends up in the drain, causing it to clog. As a result, it becomes impossible to use the sink and dishwasher, making life difficult for the modern man. Self-clogged drain cleaning is a laborious and time-consuming process. It is better to contact the professionals working in our company and draining service Toronto will help you to save time.
Using safe products for the environment, as well as professional tools, our man will quickly get the drain back to work. We can also do the cleaning of a clogged shower drain, which is often clogged with hair that is not amenable to chemicals.
Which Drains are Most Likely to Clog?
The smaller the diameter of the drain hole, the faster it will clog. That's why snaking clogged kitchen drains, as well as narrow shower or bath drains, is a frequent occurrence in any cottage or apartment. No matter how carefully you use these modern conveniences, you will have to use a clogged drain cleaning service sooner or later. And, of course, it is best to order this service well in advance before you have severe problems with clogged drains. The first signs that your drains are clogged are the appearance of an unpleasant odour and slow-running water. So as soon as you notice these signs, call us immediately!
Most clogged drains occur gradually due to natural causes, including all sorts of waste products you use at home and mineral constituents in tap water. But sometimes kitchen and shower drains can become clogged suddenly and unintentionally if you accidentally drop a foreign object down them. Most of the time, it could be jewellery such as rings, earrings, bracelets, etc. To accurately retrieve these expensive things for you, it is better to call a specialist.
Possible Causes of Clogged Kitchen Drains
The main reason for the gradual clogging of the kitchen drain is a vegetable and animal fat accumulating overtime on the pipe's walls. It happens even though you use the most effective grease-dissolving agents when you wash dishes. Over time, the layer of this water-insoluble grease gets thicker and thicker. And this, in turn, creates conditions for food scraps and other items that fall down the drain to stick. These can be kitchen towel scraps, labels, hair, etc.
Our company performs a cleaning clogged kitchen sink drain chemically and mechanically, depending on the nature and extent of the contamination.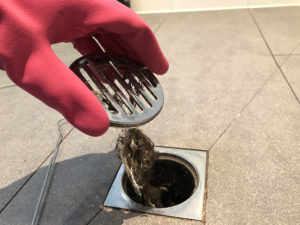 Possible Causes of Clogged Shower Drains
The main reason for a clogged shower drain, bathtub or bathroom sink is hair plugs and items of personal hygiene. Hair gets down the drain one way or another, and it's hard to fight it. But at least try not to drop cotton swabs, dental floss, Band-Aids, and other items that belong in the garbage can go down there.
Cleaning a clogged shower drain is usually done mechanically with special plumbing tools.
Why Order the Kitchen Drainage Cleaning from POM Plumbing?
By contacting us, you get:
Affordable cost of services.
Quick arrival of a specialist.
Qualitatively done work.
Guarantee security used funds for cleaning sewers.
To order a clogged drain cleaning service leave an application on the website or call us. After processing the request, we will contact you to clarify the address and time of arrival of the master.
Do not wait until the wastewater rising into the sink, bathroom, or toilet turn your life into a nightmare. If you noticed that the water is going down the drain badly, you need to urgent clean a clogged drain. We work with all types of customers, ensuring that the work is done quickly and accurately.
FAQ about cleaning kitchen pipes and sewers
We got drain clogged in the kitchen sink. I found POM Group on google and call them. They said plumber will come within an hour. When he arrived and checked our kitchen sink drain he said that it all rusted out and needs to be replaced. After plumber cleared drain he replaced all necessary parts of drain. Everything was done professional and clean.
I would like to say thank you to POM Group for responding so quick to our problem.

We are pleased to place the first review for the POM Group! We were doing a big project in our house involving basement waterproofing, installation of sump pump and also installation of back water valve on our main line as our neighbors were suffered from sewer back up several years ago and wanted to make sure that our house is protected from all of these disasters. We were asking multiple companies to come to our house and investigate what would be the best solutions for our particular case. When POM Group representative arrived the filling that finally right person is here appeared from very first moment

POM was prompt, courteous and thorough. We would recommend to anyone. We had a backwater valve installed. I called Sunday, got a quote Monday, has the work done the following Monday (including issuing of building permit).