North York Plumbing Service by POM Group
Expert Plumbing Repairs in North York – Fast & Reliable Service
At company POM Plumbing Group, we take pride in being the go-to plumbing experts in North York. Our team of highly skilled and experienced professionals is dedicated to providing top-notch plumbing services to all our clients. We understand the importance of having a reliable and efficient plumbing system, which is why we are committed to offering prompt and effective plumbing repairs to our customers.
Our services are comprehensive and cover a wide range of plumbing needs. We are equipped with state-of-the-art tools and equipment to ensure that we can handle any plumbing issue, no matter how big or small it may be.
Why Choose Us as Plumbing Contractors in North York?
Comprehensive plumbing repairs in North York
We offer a wide range of plumbing services to meet all your needs, including:
Drain cleaning and unclogging
Faucet and fixture repair and installation
Water heater repair and replacement
Sewer line repair and replacement
Pipe repair and replacement
Bathroom and kitchen remodeling
Quality plumbing repair in North York
Our team of experts is highly trained and has years of experience in plumbing repairs. We are constantly updating our knowledge and skills to stay up-to-date with the latest plumbing technologies and techniques. This allows us to provide our clients with the best possible service and ensure that their plumbing systems are functioning at their best.
In conclusion, if you're looking for fast and reliable plumbing services in North York, look no further than POM Plumbing Group. We are committed to providing our clients with exceptional service and ensuring that their plumbing needs are taken care of promptly and efficiently. Contact us today for all your plumbing needs.
FAQ about Plumbing in North York
Testimonials about POM Plumbing Group
"I highly recommend their services in North York! The plumber fixed my leaky faucet swiftly. Great job and excellent customer service!!!"

I had a great experience with this plumbing company. The plumber they sent was professional and courteous. He fixed a leak in my kitchen sink and also checked for other potential issues. Their plumbing services are reliable and reasonably priced!!!

These plumbers are lifesavers! When my basement started flooding, they arrived promptly and worked tirelessly to fix the issue. The plumber was skilled and knew exactly what to do. Their plumbing services in North York are exceptional, and I can't thank them enough for their help!👍

"Outstanding plumber! They fixed my sewer line issue promptly. I'm impressed and will definitely use their services again."

I'm so glad I chose this plumbing company! The plumber they sent was experienced and fixed a dripping faucet in my bathroom. Their plumbing services in North York are reliable, and I'm happy with the results. I'll definitely use them again for any plumbing issues😀)

I had an excellent experience with the plumbers from this company. When my kitchen sink started leaking, I called them for help. The plumber arrived promptly, assessed the issue, and fixed it efficiently. Their service is reliable, and I'll definitely call them again for any future plumbing needs.

Basement waterproofing is a crucial investment in maintaining the structural integrity of your home. Ensuring its longevity is equally important. Let's delve into the factors
Read More »
Chemical drain cleaners have become a popular choice for homeowners dealing with clogged drains. These powerful agents offer a quick and seemingly easy solution to
Read More »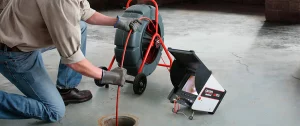 Sewer line issues are often out of sight, out of mind until they become major problems. Homeowners and property managers are increasingly turning to innovative
Read More »